About Shamá Method®

Shamá method® is a treatment method developed to remove alternatively correct various types of scars and other skin complications significantly.
Scars after surgical procedures, self-inflicted scars, scars after illness, accident, skin disorder, stretch marks, hypo- and hyperpigmentation, burns, vitiligo, alopecia and other complications on the face and body are correctable with the Shamá method®. In all our years in the field, there has never been any complications, side effects or allergic reactions.
Shamim Malik developed Shamá Method® in collaboration with several Nordic plastic surgeons. The method was developed to aid people with disfiguring scars and skin lesions who did not feel at ease with their body or mind. Many times, surgical procedures are required i.e. at injury or congenital abnormality, but the surgeon's work to reset the body's function is not always enough from the patient's perspective. Supplementary methods and treatments on face and body where requested by patients whose confidence and lifestyle had been affected, especially when scarring on visible places has emerged. A combination of procedures that considered both the functional and the aesthetic aspects needed to be developed to improve client's' appearance and quality of life – the result was the Shamá Method®.
Shamá method® is artistic precision work carefully restoring damaged skin with medical products and pigments. It has proven to be a gentle and reliable scar treatment method that drastically improves the shape and skin texture. Used for both reconstructive as aesthetic purposes. The aim with all our treatments at Shamá Clinic is to improve not only the skin injury on the body but also the person's well-being and thus quality of life. In the reconstructive field, there is a consistent and dynamic development together with specialists of different disciplines and specialties in several university hospitals.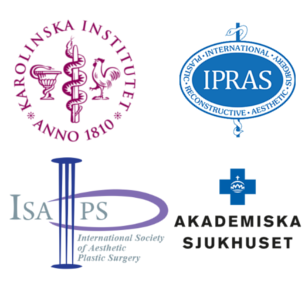 In 1997 Lisbon Portugal Shamim Malik received international recognition for her work with Shamá Method® by IPRAS (International Confederation for Plastic, Reconstructive and Aesthetic Surgery), for the effective, well-documented and risk- free method. The reliability and performance of the method has over the years been presented at medical seminars, such as the Nobel Forum in 2005 Stockholm, in the medical journals, daily newspapers etc. See our references here!