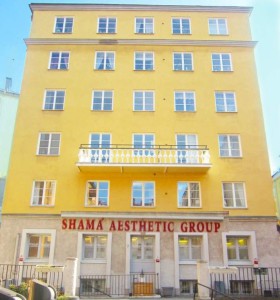 Business hours:
*UTC +1
Monday – 10:00 – 18:00
Tusday    – 10:00 – 18:00
Wednesday – 10:00 – 18:00
Thursday – 10:00 – 18:00
Friday   – 10:00 – 18:00
Saturday   – Closed
Sunday  – Closed
Telephone hours:
Weekdays 10:00 – 17:00
Closed for lunch 12:00 – 13:00
Book a time by calling +46 (0)8-663 93 06 or send a request via the form on the right.
You can also send a request directly to our e-mail: info@shama.se
This site uses cookies. If you continue using this site we assume you accept that cookies are being used.
To read more about cookies and how we use them click on this link.
If you have any questions about our cookie and privacy policies please contact us on dataskydd@shama.se
---
Get directions here – Map! 
Birger Jarlsgatan 104P
114 20 Stockholm
Tel: +46 (0)8-663 93 06
---
Directions:
Clinic Shamá Aesthetic Group is discreetly located in our beautiful premises in central Stockholm. Easy to get to with both car and municipal means of transport. Shamá Clinic offers fresh and airy rooms that give an impression of peace and harmony. The competent and pleasant staff will make you feel well taken care of from the very first moment of your visit.
The visitor's address is Birger Jarlsgatan 104P 114 20 Stockholm, with visible entrance from Frejgatan 7.
How to get here:
1. Subway: The Red Line 14 of the subway towards Mörby Center to stop Tekniska högskolan. Take the rise towards Odengatan. Once you get out you are on Odengatan. Behind the subway station there is a crossing with traffic lights, turn left on Valhallavägen until you reach the freeway Frejgatan. Go down on Frejgatan and opposite Frejgatan 7, you will see the clinic. Walk towards the clinic and when you arrive at the building you will find stairs that go UP on the left side. Go up the stairs and the Shama Aesthetic Group entrance is on your right in the middle platform of the stairs.
2. Car: By car, it is easiest to get here by accessing and following freeways: Valhallavägen, Frejgatan or Birger Jarlsgatan.
3. Taxi: Enter Frejgatan 7 114 20 Stockholm to the driver. The address is very close to Valhallavägen.
Welcome!